Giving Opportunity
Raising Funds for Ruby - ACHF Pediatric Neurology Unit 3
About this Giving Opportunity
The Supply Chain Center of Excellence is proud to support the Alberta Children's Hospital - Pediatric Neurology Unit 3 with our next charity event. This event is near and dear to our Supply Chain family. To learn more, keep reading!
Matt Patterson's two-year-old daughter, Ruby, has spent a good portion of her young life in the Alberta Children's Hospital. She was born with a very rare genetic syndrome (Antley-Bixler Syndrome) and is the only known case in Canada. Her syndrome has had significant impacts to her mental and physical development, requiring many surgeries, therapies, and continued support of the Children's Hospital. Ruby's most recent hospital admission this spring included four brain and skull surgeries and the placement of a semi-permanent feeding tube. Ruby will likely require the life-long support of her hospital care team, the improved quality of life that they provide is absolutely required and truly amazing!
Although many organizations donate funds to the Alberta Children's Hospital, we need your help to ensure Pediatric Neurology Unit 3 specifically gets these funds to help not only Matt's daughter but other children in similar circumstances.
All donations made to this page will be matched at 100 per cent! (*Note*: Matching is for TC Energy employees only)
The Supply Chain team cannot thank you enough for your support and donations to this very worthwhile cause!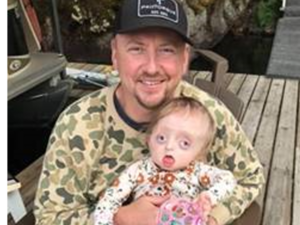 Causes in this Giving Opportunity

Calgary, Alberta, T3B 6A8, Canada
How Donations Work
Click any 'Donate Now' button and then decide your donation amount. You will then be forwarded to your payment processor of choice. Once your donation has been processed it will be sent to your charity of choice.
Need Some Help?